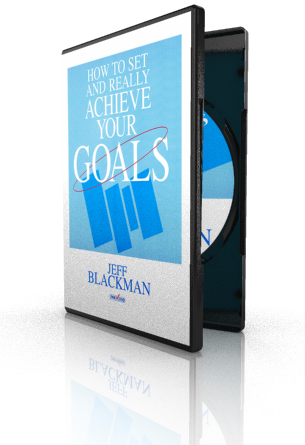 Turn your dreams into realities. Whether for an individual, team or company, this video learning system shows you how to:
become a positive pro-active thinker
apply the winning mindset of an Apollo astronaut and an Olympic gold medalist
hurdle your belief barriers
take meaningful action to assure results
plan, prioritize, profit and more…
Packed with powerful visuals, entertaining stories and Jeff's direct yet friendly style. Ideal for larger group training or personal self-study.
This goals video learning-system was written/hosted by Jeff and published/distributed by JWA Video in 1995. And today, "a few years later," it's still a top-seller worldwide. How come? The quality of its valuable content, Jeff's engaging style and JWA's unique set-design and high production value, for 1995. If a fine wine increases in value over time… Well, you get the idea! Oh, you might especially enjoy seeing Jeff with fuller and darker hair, on top of his head and above his lip! Get ready to deliver profitable customer service!
Watch "classic cuts" from How to Set and Really Achieve Your Goals
| | | |
| --- | --- | --- |
| Bruce Jenner's Victory Lap | Start Your Journey | The Legend of Apollo 13 Astronaut Jim Lovell |

How to Set and Really Achieve Your Goals
Includes: a 35 minute DVD, CD audio and workbook
Publisher: JWA Video
$129.95 DVD
"Jeff, thank you for helping me achieve my goals. After your program, I am 100% positive I will reach these goals. My wife and I sat down and planned our lives together. We know what we want for ourselves, each other, and our children. We now have focus and a plan. It's a relief to have this down on paper. Thank you!"

Patrick Vandenberg

Focus areas:
The GRASP IT™ goal achievement system.
Developing your goals.
Dream sheets.
Categorizing your dreams and goals:

Family Goals
Financial Goals
Spiritual Goals
Recreational Goals
Health Goals
Business Goals
Other Goals

Ranking Goals
GRASP IT™ Action Plan
GRASP IT™ Worksheets
These times they are a changin'!
You are a goal seeking being!

Growth tools:
Opportunity $elling® CDs (audio learning-system)
Stop Whining! Start Selling! (book)
Peak Your Profits (book)
RESULT$ (book and/or CD)
Carpe A.M. • Carpe P.M. / Seize Your Destiny! (book)
Opportunity $elling® (sales quotation book)
Profitable Customer Service (video)
How to Set and Really Achieve Your Goals (video)
Behavioral Assessments (Sales, Service & Management)