Six Profit-Producing Steps to Multiply Your Earnings (sales quotation book)
Revised 3rd edition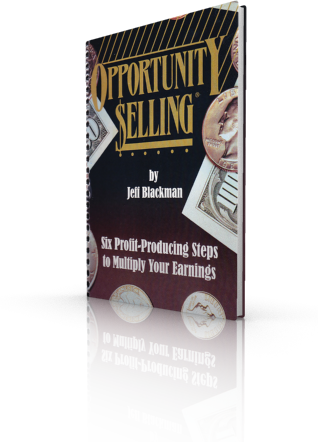 A strategic and philosophical blockbuster! Salespeople declare it's "their constant companion, as an on-the-road refresher and mental-motivator." It ignites you, whether you're beginning your sales career, on your way up, or already on top and want to stay there!
Opportunity $elling!
Publisher: Prosperity Press
4" x 6" softcover
$10.95
Read excerpts from Opportunity $elling!

Growth tools:
Opportunity $elling® CDs (audio learning-system)
Stop Whining! Start Selling! (book)
Peak Your Profits (book)
RESULT$ (book and/or CD)
Carpe A.M. • Carpe P.M. / Seize Your Destiny! (book)
Opportunity $elling® (sales quotation book)
Profitable Customer Service (video)
How to Set and Really Achieve Your Goals (video)
Behavioral Assessments (Sales, Service & Management)