Doubles their business!
Meet the man who can put Michael Jordan, Susan Sarandon, Hugh Jackman, Shaun White, Mike Ditka, Mia Hamm or 20,000 other athletes, entertainers and celebrities on your team!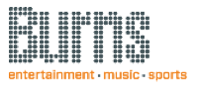 Since the fall of 1998, Jeff has worked with Bob Williams, CEO / COO, and his team at Burns Entertainment & Sports Marketing. Burns is the nation's leading entertainment and sports marketeer. They specialize in placing athletes, entertainers and celebrities with corporations, ad agencies, public relations firms and not-for-profits…in TV commercials, ad campaigns, speaking engagements and personal appearances. Burns emotionally connects consumers through entertainment, sports and music.
One of the things that makes Burns especially unique, is they're not an "agent" that represents the athlete or entertainer. Instead, they represent the decision-maker who wants to hire a celebrity. And since Burns knows the "fair market value" of a current pro, retired All Star, coach, announcer, TV or film star, they can negotiate and reach agreements with athletes, celebrities and their agents at significant savings.
Burns has a forty-year track record of results. And with Bob's leadership since 1993, Burns' revenues have increased over 500%. Plus the top media outlets in the world rely upon Bob and Burns for the inside scoop on sports marketing, mega endorsement deals and giant athlete contract signings. Bob is frequently quoted or interviewed for; the Wall Street Journal, New York Times, Fortune, NBC, ABC, CBS, ESPN, Fox, etc. Bob is also the author of The Brand Agent.
Here's what Bob Williams, CEO / COO of Burns Entertainment & Sports Marketing says about Jeff:
"I began working with Jeff in 1998 and he helped double our business  at Burns with a blend of great ideas, structure and ongoing accountability—ensuring we followed through on the plan he helped create. I highly recommend Jeff to any company wanting to grow their business quickly. As good as Jeff is as a business-growth specialist, he's an even better person, who I call a friend."
And here are excerpts from a conversation with Bob:
Q: What have been the results from your relationship with Jeff?
Bob Williams: As a business-growth specialist, Jeff looks at our company from a different perspective. We tend to think and act in terms of how things have always been done and are hesitant to change. Jeff identifies key areas for change that enhance what we do. He also suggests subtle, yet very powerful and profitable upgrades, like the need to restructure our company. This change immediately translated into explosive sales, with less effort. Jeff challenges us to achieve specific goals, yet he always provides the tools to help us meet and exceed these goals.
Q: What are some of the areas you have worked on together?
Bob Williams: There are many…
driving sales volume
long term planning
goal setting
value billing
restructuring
discovering hidden profit centers
elevating value perception
referral generation
Q: What do you value most about your relationship with Jeff?
Bob Williams: Jeff works as our partner. He brings an invaluable and unique business perspective. Plain and simple, he helps us produce on-going results and profits.
(Bob is now the Founder and Owner of Love Real Estate Solutions.)
To learn more about how Jeff's strategies, results-sessions and coaching can dramatically impact your growth, please contact Sheryl Kantor at [email protected] or 847.998.0688, or complete the quick and easy Results Request. Also please take a peek at Personal Success Coaching or Programming for Results.