QUESTION: Jeff, what have you recently read, seen or done…that has had a profound impact?
ANSWER: Intriguing question. So here goes…
The "journey" was hatched in the fall of 2017. It began with a simple question, "What if…" And boom, the four of us quickly exclaimed, "We're all-in!"
The trek for my wife Sheryl, brother-in-law Bob and sister-in-law Char, began on Friday, May 4th, 2018. We flew from Chicago to Des Moines, Iowa. Then drove to Omaha, Nebraska.
What would inspire us, to fly, drive and immerse ourselves in a weekend adventure? A rock concert? A family reunion? An unforgettable entertainment experience? The answers to all of the preceding, are an unequivocal, "Yes!"
For we were official attendees of what the media has dubbed, "Woodstock for Capitalists!" As Berkshire Hathaway shareholders, we had the benefits and perqs of attending their annual three-day shareholders meeting.
The BH portfolio is vast and diversified. Whether you seek a tasty custard blizzard, delectable chocolates, a snap when you bite 'em hot dog or secure insurance protection. As a holding company, BH's "holdings" include; Dairy Queen, See's Candies, Oscar Mayer and GEICO. (In the following picture, how many "hot dogs" can you identify?)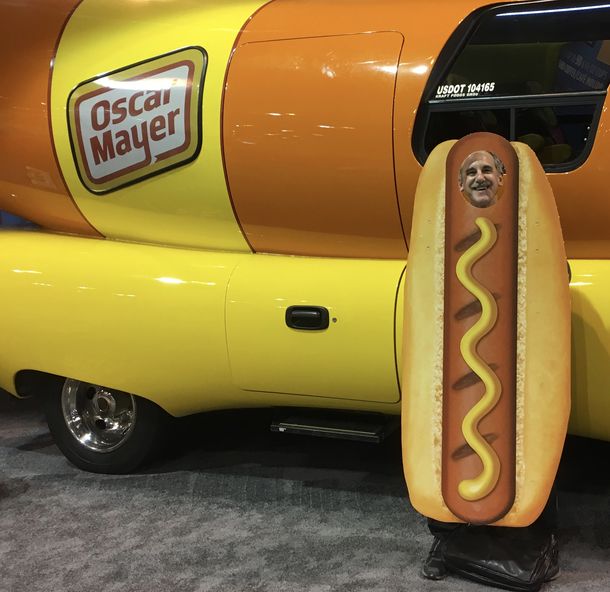 These holdings, plus others, along with their huge portfolio of other companies' stocks, makes Berkshire Hathaway, by market capitalization, the 6th largest company in the world. And its founder, chairman and CEO, Warren Buffett, is the world's third-wealthiest person, who has the iconic "title" of: The Oracle of Omaha! (Buffett's net worth is an astonishing: $91 billion.)
The "BH or Berky experience" was attended by approximately 40,000 people, who flocked to Omaha. Where during "shopping days" you can buy at a "savings" products and services from booths that comprise the BH portfolio. (Notice, I said at a, "savings." In last year's shareholder letter, Buffett actually declared, "Your Chairman discourages freebies.")
Twenty-thousand "capitalists" or fans or zealots, also crowded into Omaha's CenturyLink Center for the full-day, Saturday, May 5th meeting. (In 2017, the meeting's live stream was watched by 3.1 million viewers. And replays with shorter meeting excerpts had 17.1 million views.)
The highlight of the meeting, was when Warren Buffett and his longtime friend, partner and BH vice chairman Charlie Munger, simply sat at a table on a CenturyLink Center stage and were peppered with questions. Two-and-a-half hours in the morning, and two-and-a-half hours in the afternoon.
For five hours, they fielded queries from journalists, analysts and worldwide shareholders. No notes. And no knowledge of what would be asked. Questions and answers covered: investment philosophy, succession planning, tariffs, ethics, cyber attacks, Elon Musk, presidential politics, the newspaper business, culture, cryptocurrency, women in the workforce, and more.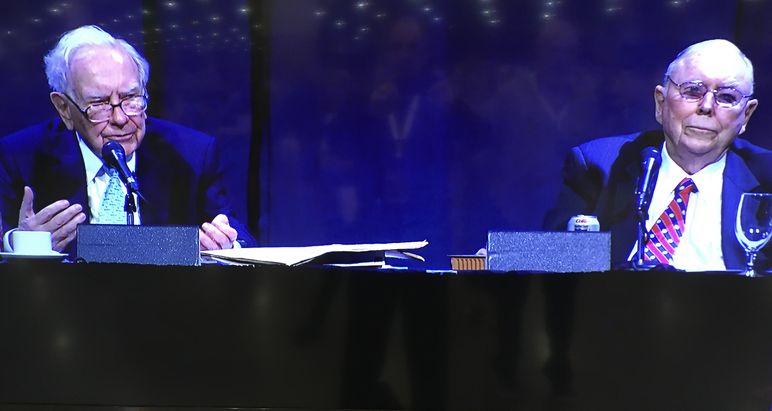 Buffet is now 87. And Munger, who has a net worth of $1.64 billion, is now 94. And they personify the significance and importance of "listening to your elders." They're both smart. Really smart! Plus, they're articulate. Poignant. Relevant. Insightful. And remarkably funny!
Here are simple, yet powerful May 5th, 2018 takeaways or quotes from each:
Charlie Munger: "You have to always work, to improve your judgment."
Warren Buffett: "What counts, is having a philosophy and following a consistent plan."
Charlie Munger: "If you're going to live a long time, you have to keep learning."
Charlie Munger: "I've been to Google headquarters, it looked like a kindergarten." (Warren Buffett added: "A very rich kindergarten!")
My personal takeaways:
• ethics, honesty and doing the right thing are non-negotiables
• dream big
• hire bright people, with specific skills…then get out of their way
• be a lifetime student, (Buffett READS six hours a day.)
• protect your reputation
• success takes time, discipline and patience
• define what matters most in life for YOU, and know, it shouldn't be money
• when you invest, buy what you understand
• be wise, not greedy
• know when to take action, know when to wait
• price is what you pay, value is what you get
• do what you love
• give back
• simple and easy, is always better than complex and confusing
• the best investment you can make, is the investment in yourself
Next year's meeting, is from May 3rd to May 5th. Will we see you there?